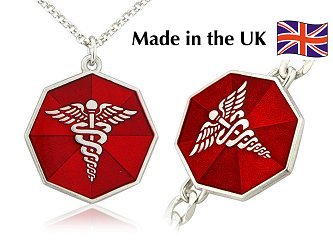 Designed and made in the UK these medical I.D. tags are struck in high quality Hallmarked Sterling Silver with matching necklace or bracelet. The modern design of these identity tags is intended to alert first aiders and paramedics in the event of an accident to your hidden medical history. The tags are enamelled in a wide variety of colours so there is something to suit everyone.

"By wearing your vital medical information near your main pulse points, your neck or wrist, the item is more easily noticed by emergency staff. In these crucial few minutes this is often the only way of conveying your vital drug allergy or medical condition that the medics need to treat you safely and effectively"

SPECIAL OFFER - BUY BOTH BRACELET
& NECKLACE FOR JUST £169.99!